La Asociación Española del Lujo – Luxury Spain organiza la 4ª edición del Luxury Digital Congress, el mayor congreso de habla hispana dirigido a profesionales del lujo en el emblemático Hotel Wellington de Madrid, con la colaboración de Icon Communication.
El pasado 31 de mayo de 9:30h a 20:00h, se celebró la 4a edición del Congreso del Lujo en España "Luxury Digital Congress – Summit 5.0" en el marco de Luxury Spain Summit.
Luxury Spain Summit es un encuentro de primer nivel que ha contado con altos ejecutivos, académicos y expertos en el sector que han podido intercambiar puntos de vista y experiencias relacionadas con los retos del Lujo y el sector Premium, una industria en constante transformación. Una experiencia en la que se ha analizado el sector del Lujo y se han abarcado cuestiones como la innovación y digitalización, el retail, la sostenibilidad y las tendencias de un sector económico en alto valor y en constante evolución en nuestro país.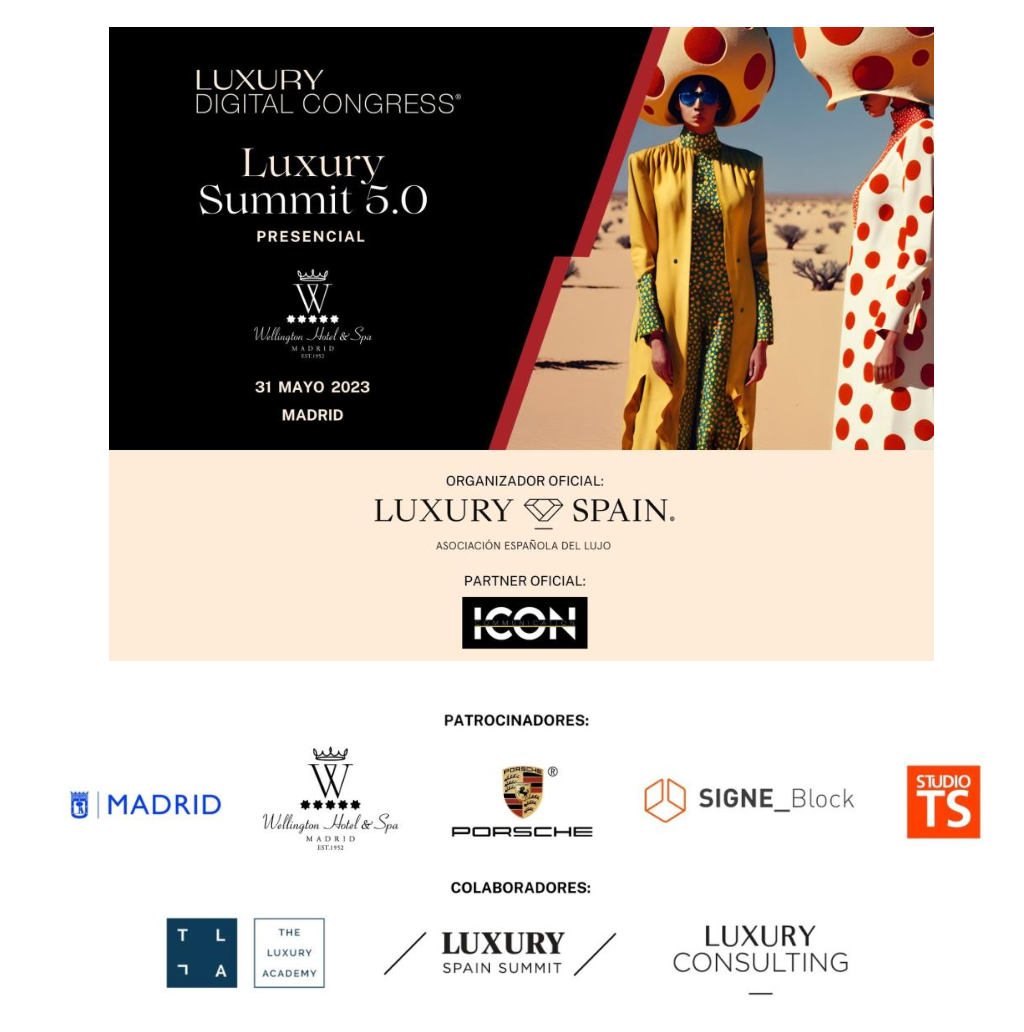 El congreso tuvo el apoyo de grandes colaboradores como son Porsche, Wellington Hotel Madrid, el Ayuntamiento de Madrid, Signe Block, Teresa Sapey, Kartell y el media partner Hearst.
El Congreso de Lujo ha contado con un Comité de Honor formado por:
S.A.R. la Princesa Béatrice d'Orléans, Presidenta Honorífica de la Asociación Española del Lujo.
Sra. Cristina Martín Blasi, Presidenta Ejecutiva de la Asociación Española del Lujo.
El evento consistió en un día full-time, de ponencias, mesas redondas y entrevistas con más de 50 ponentes directivos y profesionales como:
Influencer Awards Spain, Hearst, Woman Madame Figaro, Vanitatis, Digital Magazine Cool, Nuria March Comunicación, Fundación Thyssen-Bornemisza, Urvanity Art Projects and Fair, Casa Natal de Pablo R. Picasso, Centre Pompideu Málaga, Teatro Real, Google, Signeblock, Meta España, Linkedin, Plain Concepts, Six Senses Ibiza, Alqvimia,Durán Joyeros, ISEM Fashion Business School, Palladium Hotel Group, Air Charter Service, Astondoa, Diageo, Tabacalera, Autobello, Revista Señor Marqués, Cars, Horcher, Robuchon España, Grupo Ricardo Sanz, Asociación Tour Gastronómico, Anson y Bonet, Chanel, Chopard, PRP Luxury Consultants, Instituto de Benito,Sisley, The Beauty Concept, Mesoestetic, El País, Telva, Gentleman, AsociaciónEmpresarial Hotelera de Madrid, Centro Canalejas Madrid, Iberia Business, The Madrid Edition, Villa Magna, Rosewood, Porsche Iberica, LVMH Watches and Jewerly, TAG Heuer, Icon Communication, Pertegaz, Castillo de Canena, Bodegas Roda, Isabel Abdó Shoes y la Asociación Española del Lujo – Luxury Spain.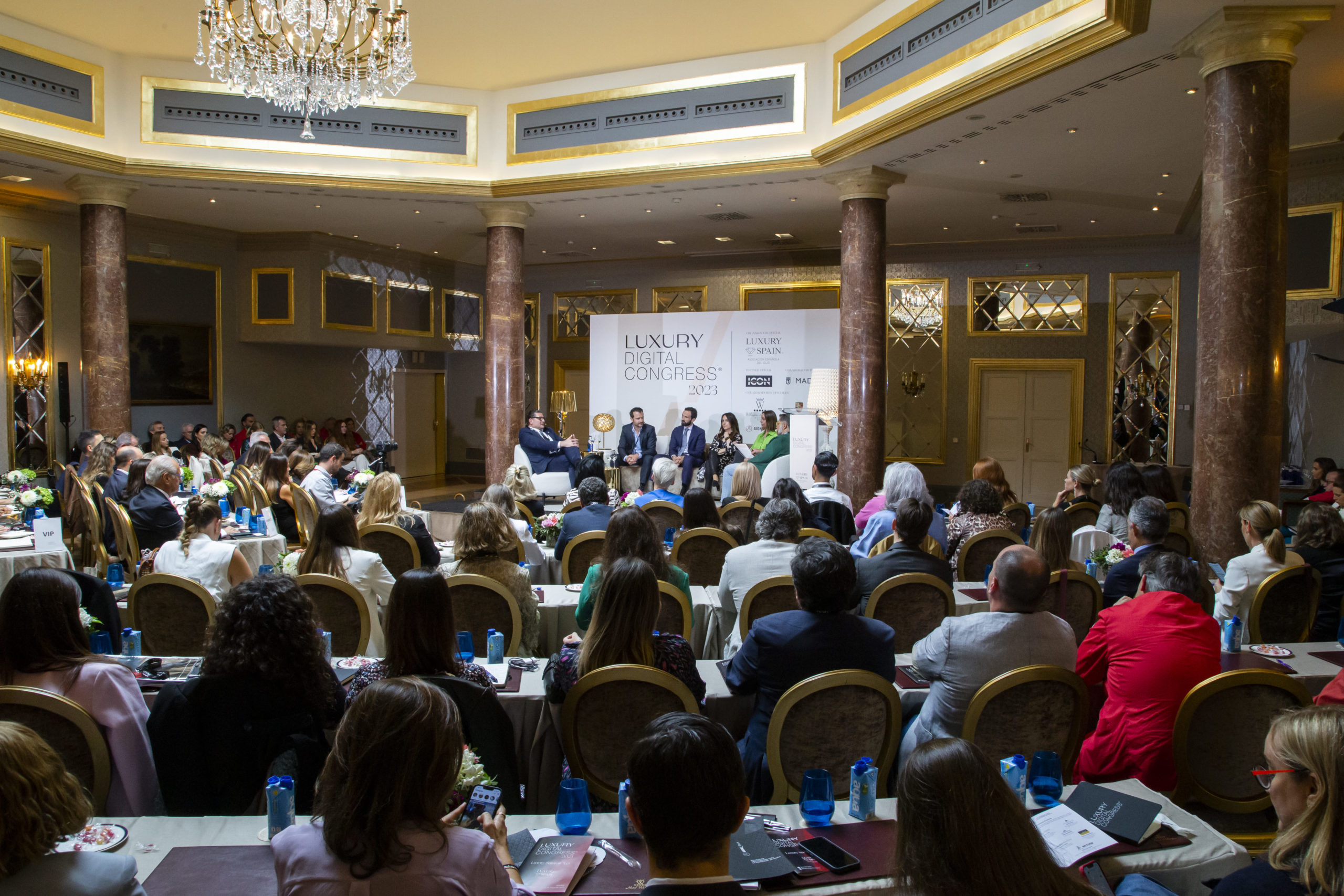 Durante la jornada de mesas redondas se abordaron temas como:
La Influencia en la Industria del Lujo
Prescriptores de lujo: la capacidad de cautivar y seducir a través del prestigio y la excelencia.
Moderado por: Elena González, CEO y Fundadora de los Influencers Awards
Ponentes:
-Mónica de Tomás, Periodista y Modelo
-Mateo Conde, Empresario y Actor
-Beltrán Lozano, Empresario y Modelo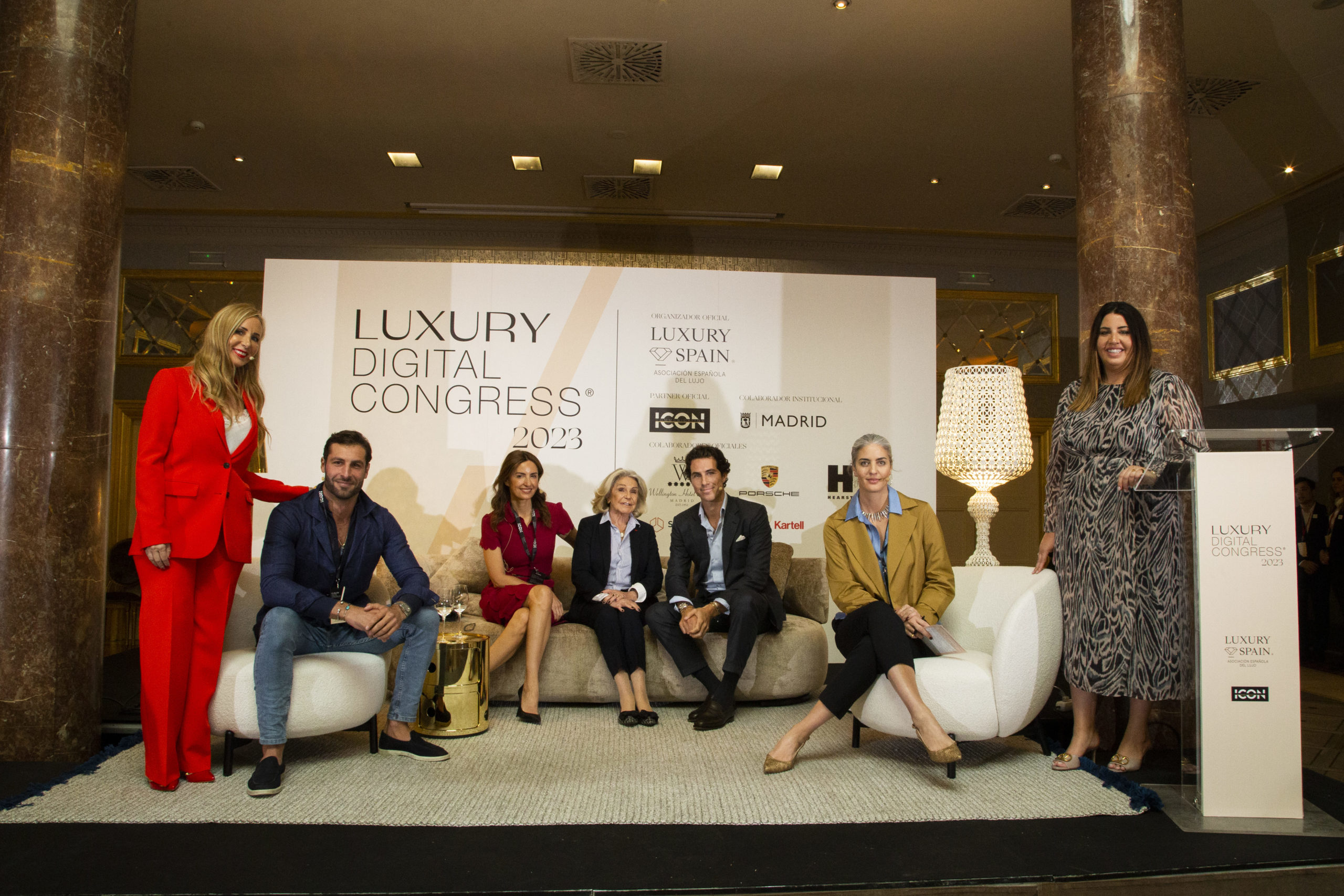 Luxury Through Smart Communication
La transmisión del lujo a través de los Medios de Comunicación. Retos yoportunidades.
Moderado por: Nuria March, Fundadora y Directora de Nuria March Comunicación
Ponentes:
-Amparo Bastit, Directora Comercial del Área de Lujo de Hearst Magazine Spain
-Andrea Arabia, Subdirectora General de Woman Madame Figaro
-Nacho Gay, Director Vanitatis
-Estefanía Cantos, CEO Luxury Lifestyle Digital Magazine Cool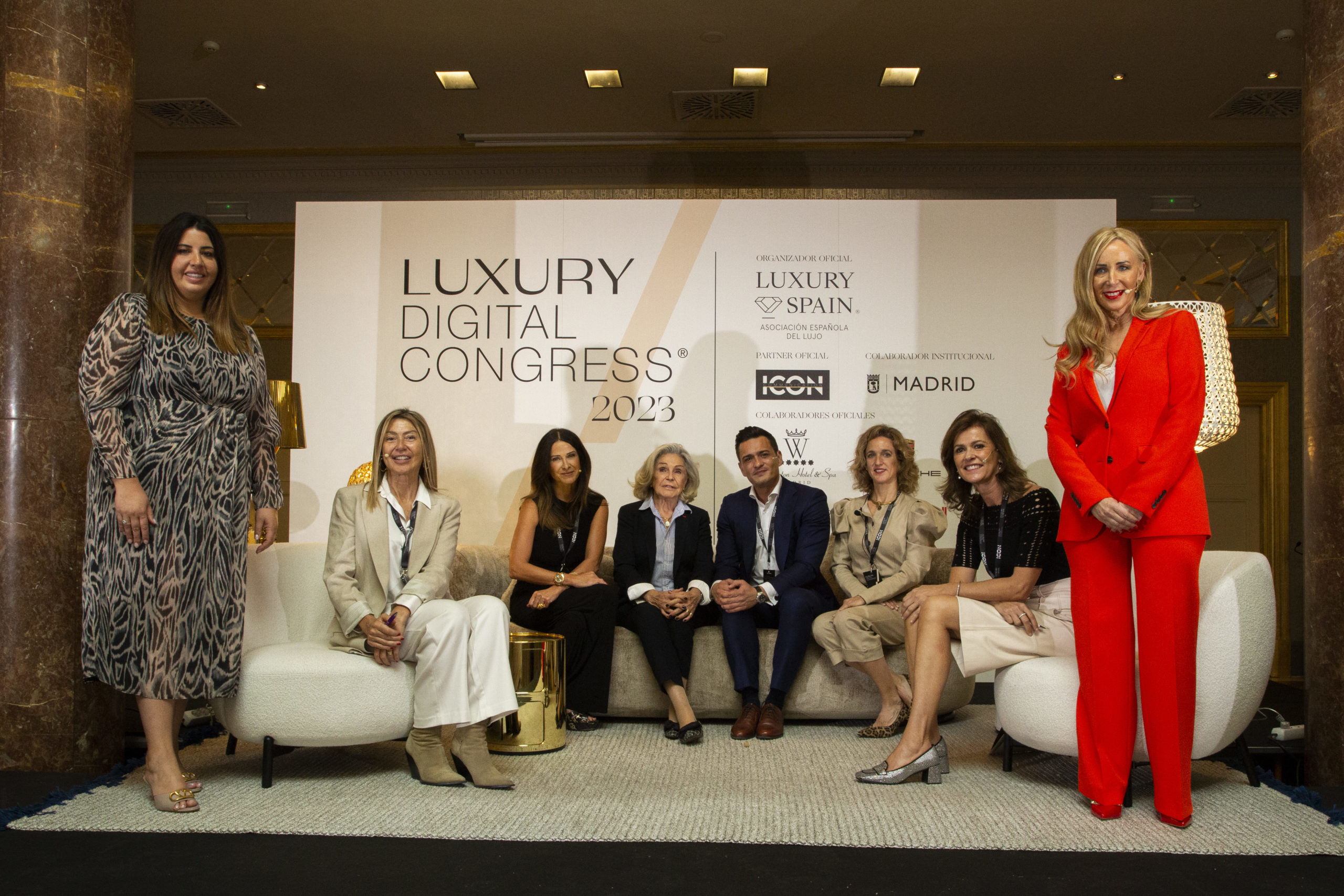 Lujo y Mecenazgo
Las artes y la cultura elevan el concepto de lujo. Sinergias y nuevas inversiones.
Moderado por: Sergio Sancho, Director de Urvanity Art Projects and Fair
Ponentes:
-Evelio Acevedo, Director Gerente de la Fundación Colección Thyssen-Bornemisza
-José María Luna, Director Agencia Pública para la Gestión de la Casa Natal de Pablo R. Picasso y Responsable Centre Pompidou Málaga
-Marisa Vázquez-Shelly, Directora de Mecenazgo Privado del Teatro Real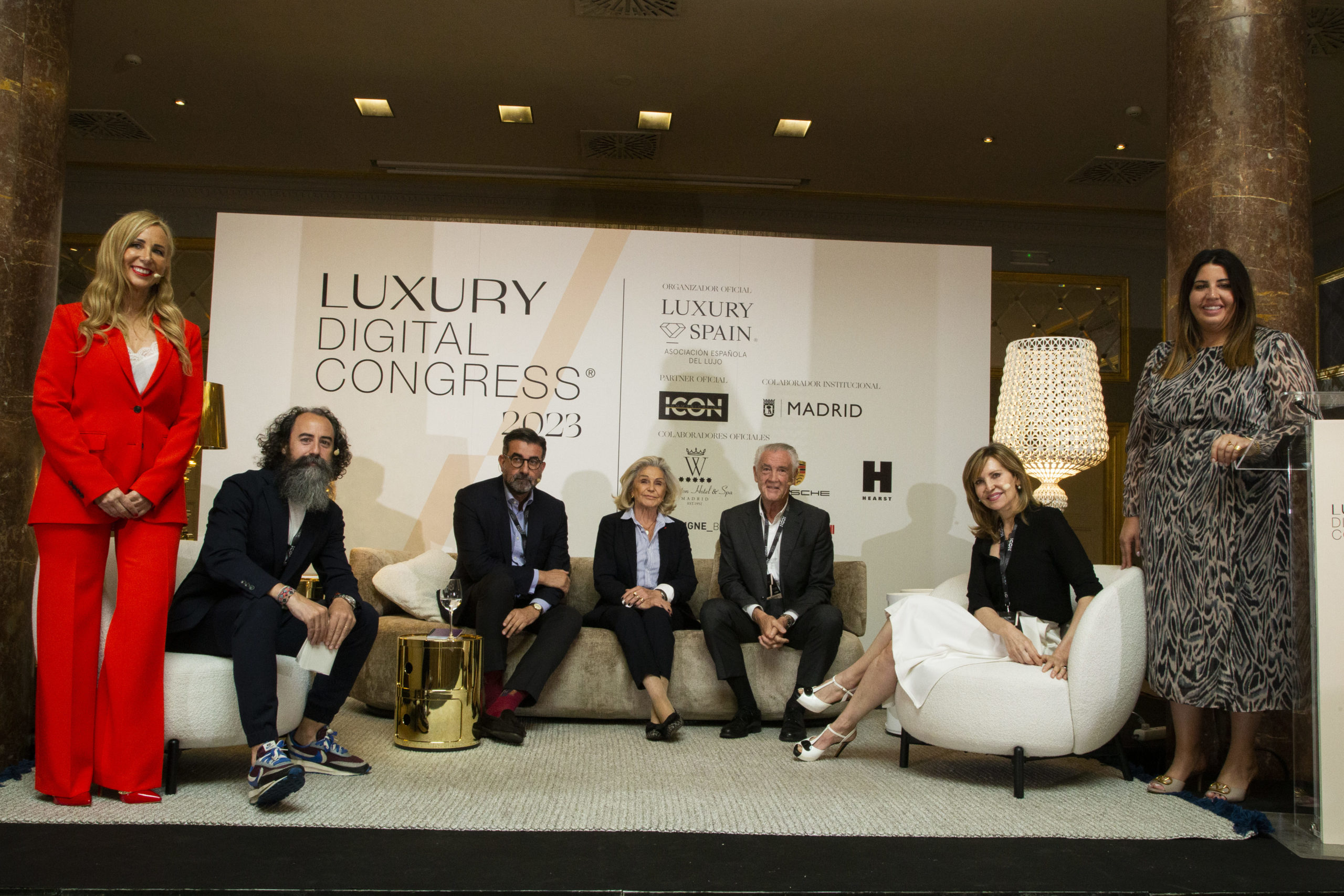 Revolución Digital y Lujo: Tecnología 5.0 y RR.SS
Innovación tecnológica: redefiniendo la forma en que vivimos y experimentamos el lujo en la era digital.
Moderado por: Joan Sintes, VP EMEA Sales and Marketing Plain Concepts
Ponentes:
-Bárbara Ozores, Industry Head Beauty y CPG en Google
-Fernando Gracia, Head of Auto, Entertainment and Sports, Meta España. -Antonio Pinedo, CEO Signeblock
-Kennet Malmcrona, Head of Linkedin Marketing Solutions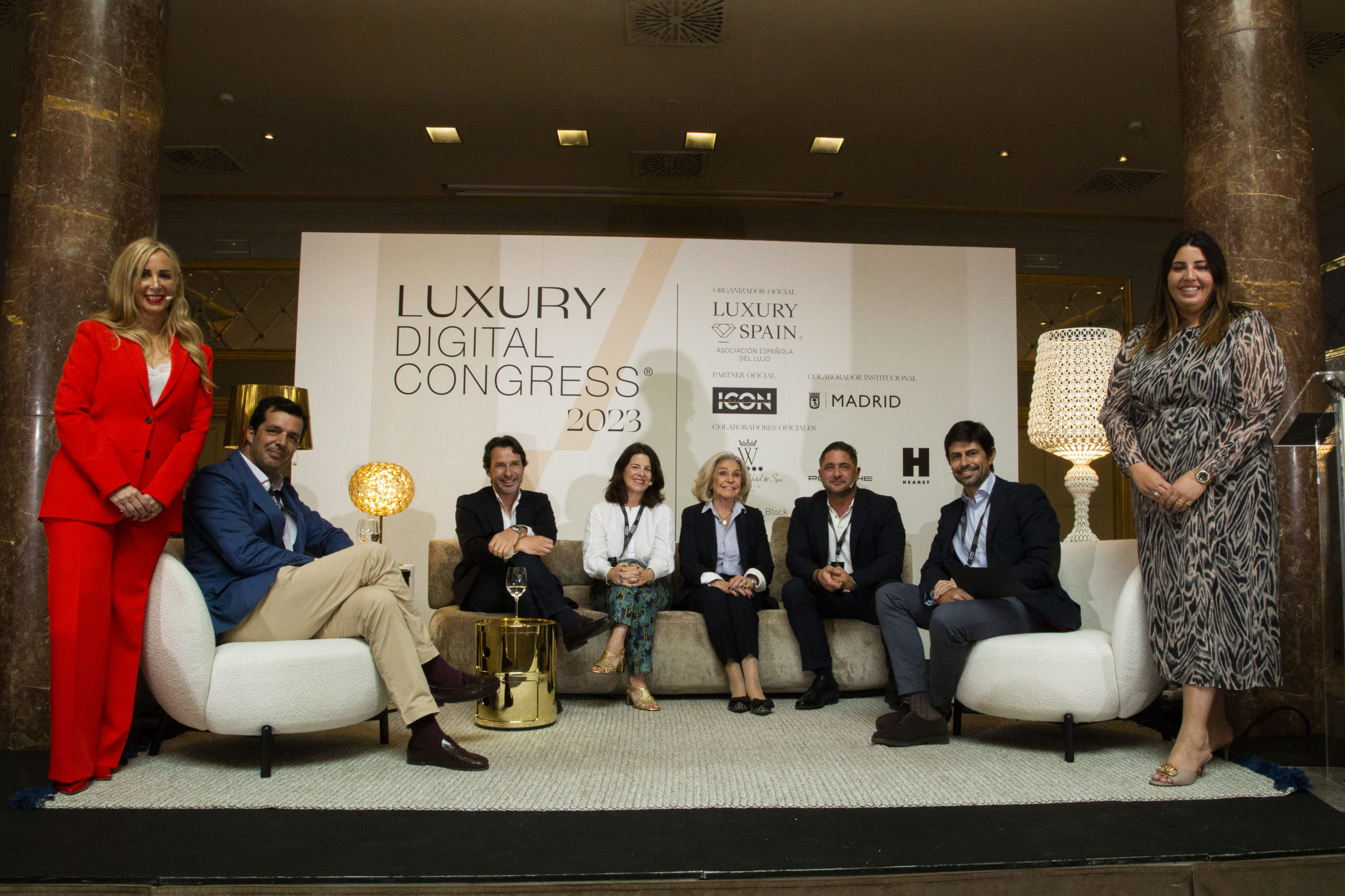 ESG: Lujo Positivo y su Integración en el Futuro Consciente 6. Lifestyle: Emotional Branding
El lujo y la excelencia se entrelazan con la sostenibilidad y la responsabilidad social creando un nuevo paradigma.
Moderado por: Teresa Sábada, Dean de ISEM Fashion Business School
Ponentes:
-Raúl García, Resort Manager de Six Senses Ibiza
-Enric Padró, Director Comercial de Alqvimia
-Alberto Durán, Director General Durán Joyeros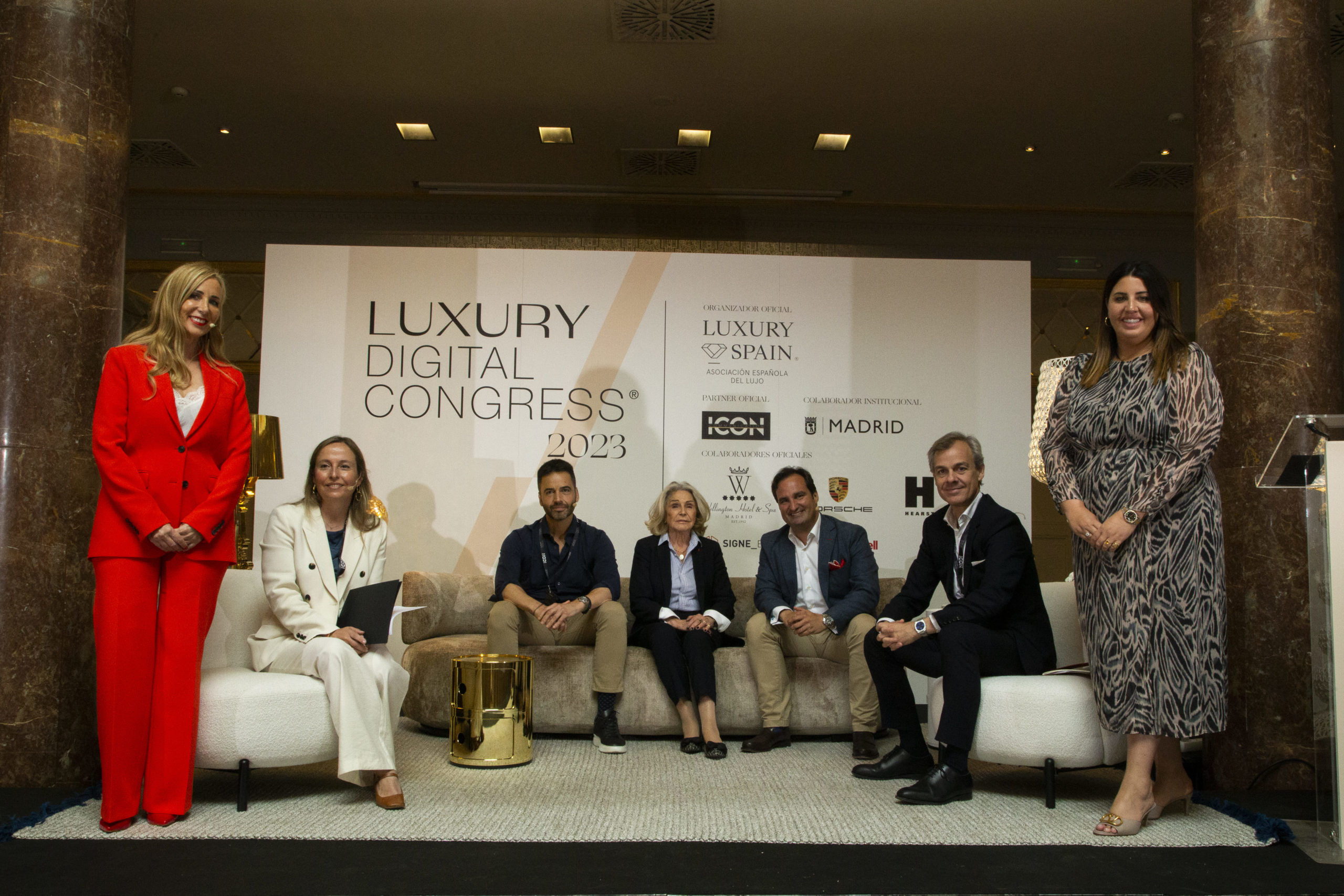 Lifestyle: Emotional Branding
El poder de las marcas para conectar con los consumidores, creando vínculos emocionales duraderos basados en la identidad y los valores compartidos.
Moderado por: Emilio Olivares, Editor, Presidente y CEO en Autobello, Revista Señor Marqués y Cars
Ponentes:
-Iñaky Bau, Corporate Brand Startegy en Palladium Hotel Group
-Anna Gomá, Directora Private Jets de Air Charter Service
-Ione Astondoa, COO de Astondoa
-Jorge Pineda, Luxury Scotch Brand Ambassador en Diageo
-Jorge Fernández, Director de Marketing Internacional de Tabacalera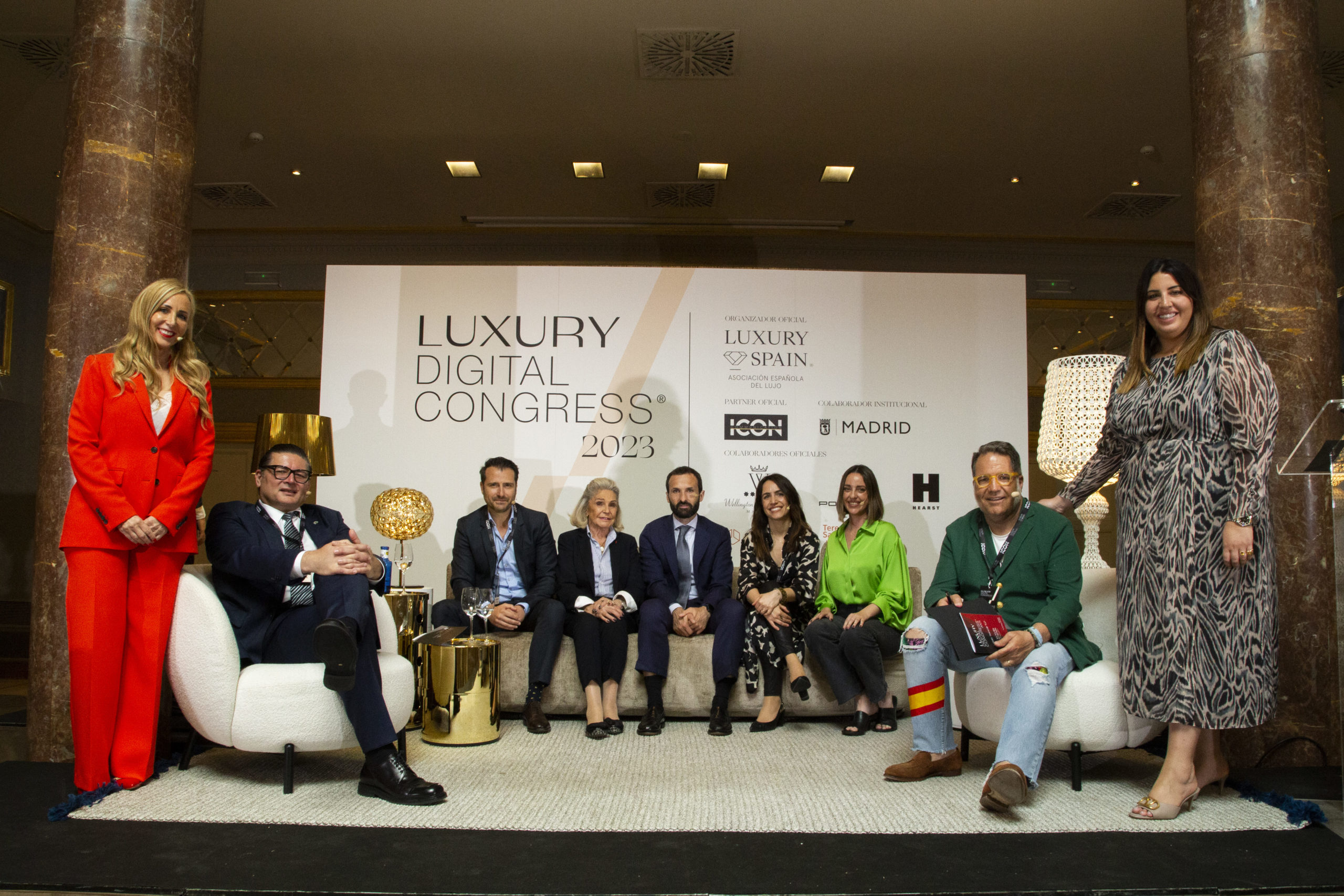 Gourmet: Innovación vs Tradición.
El Futuro de las Experiencias Culinarias
La innovación y la tradición se fusionan manteniendo la esencia de la cocina ancestral mientras se exploran nuevos horizontes gastronómicos.
Moderador por: Alejandra Ansón, Co-Fundadora de Ansón y Bonet
Ponentes:
-Elisabeth Horcher, Directora de Horcher
-Ricardo Sanz, Chef y Fundador de Grupo Ricardo Sanz
-Jorge González, Chef ejecutivo de Robuchon
-Gregori Salas, Presidente de la Asociación Tour Gastronómico (Casacas Rojas)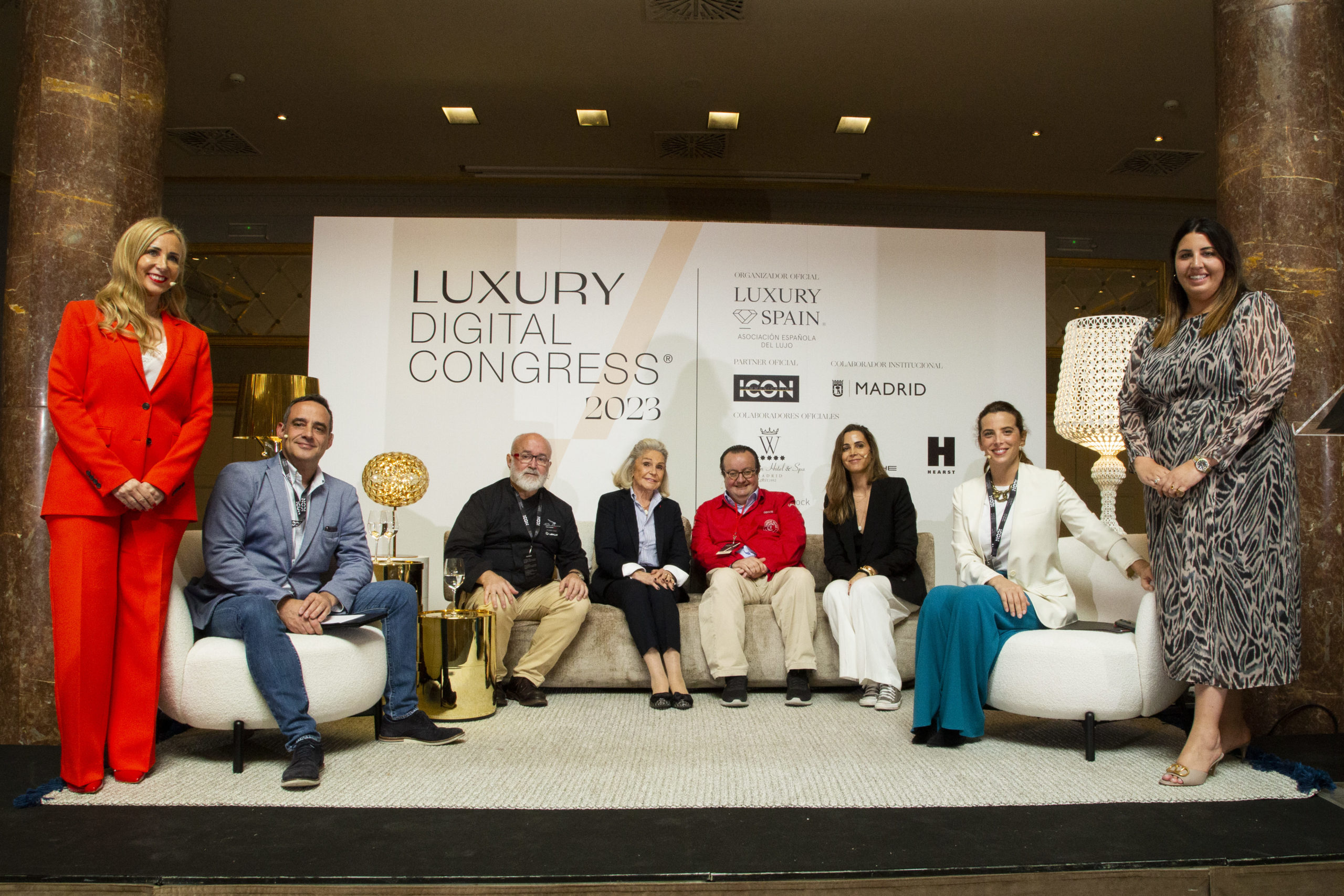 Heritage en el Lujo
La historia y la tradición como esencia e identidad de las marcas de lujo.
Moderador por: Philippe Guillaumet, Fundador de PRP Luxury Consultants Ex Presidente en Richemont Iberia y Cónsul Honorario del Principado de Mónaco en Madrid
Ponentes:
-Assunta Jiménez – Ontiveros, Directora de Comunicación y Relaciones de Chanel
-Helena Bermúdez de Castro, Directora de Comunicación y RR.PP de Chopard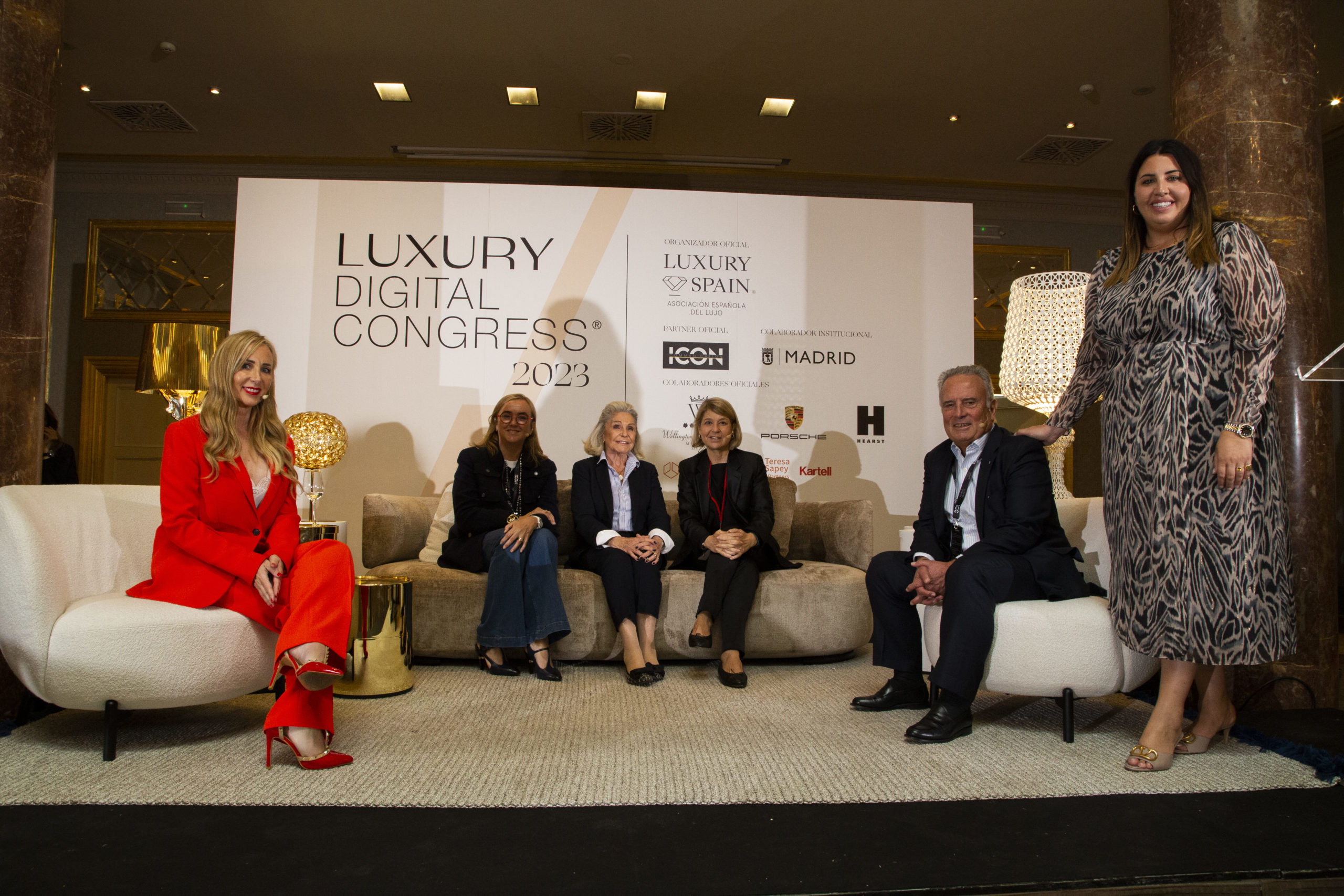 Wellmanía: Pasión por el Bienestar
El cuidado de nuestro cuerpo, mente y alma se convierte en una prioridad y cadaacción busca cultivar el bienestar en todas sus dimensiones.
Moderado por: Lucía Heredero, Redactora, Editora y Periodista de belleza en El País, Telva y Gentleman
Ponentes:
-Javier de Benito, Especialista en cirugía Plástico y Estética en el Instituto de Benito
-Álvaro Artiach, Director General de Sisley
-Fernando González, Director de Marketing de Mesoestetic
-Paz Torralba, Directora de The Beauty Concept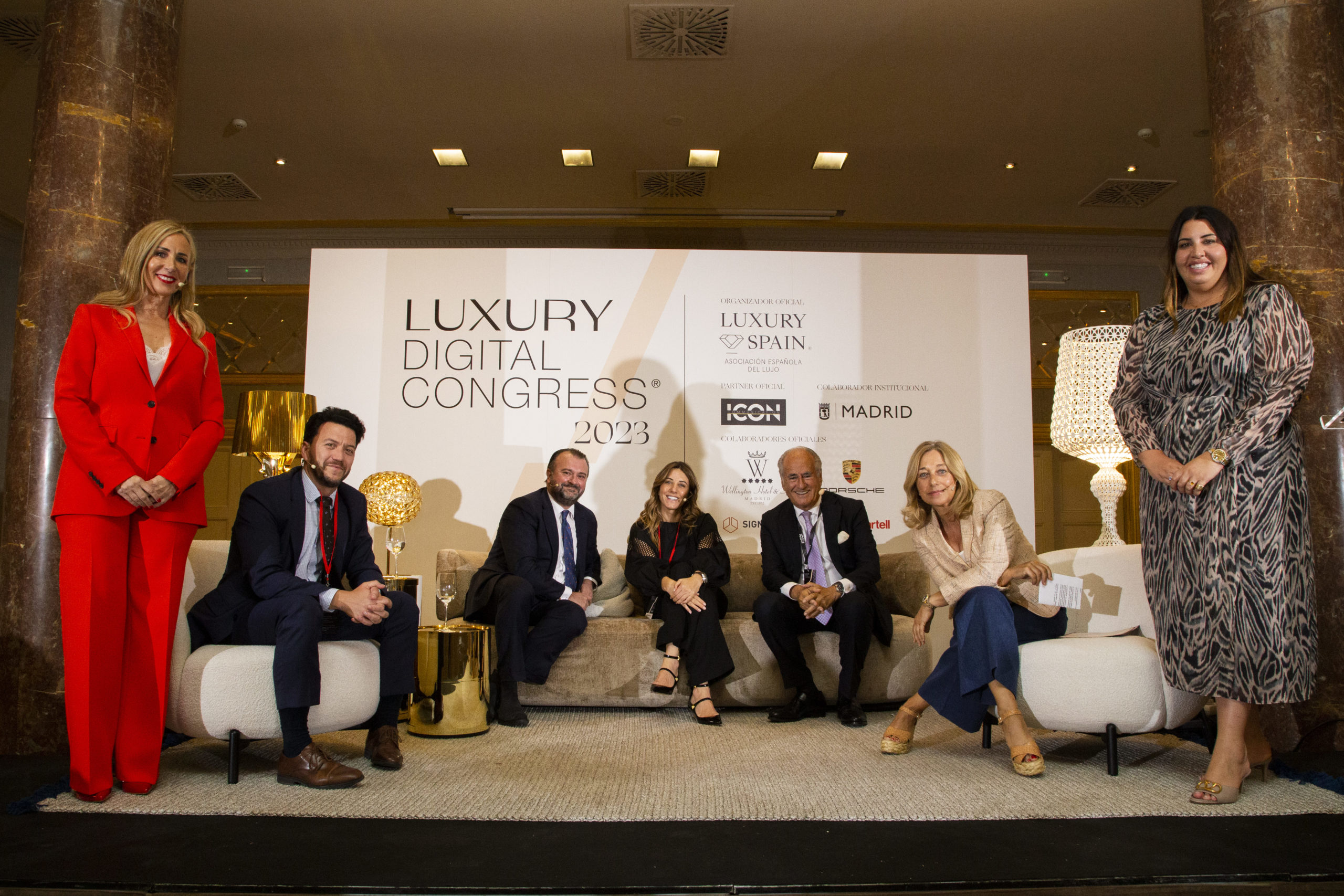 Spain Excellence Destination: Madrid
Fusión de la riqueza cultural, la oferta hotelera y comercial de excelencia y la vitalidad cosmopolita, ofreciendo una experiencia de lujo incomparable.
Moderado por: Marian Muro, Consejera y Alta Dirección en Turismo
Ponentes:
-Mar de Miguel, Vicepresidenta Ejecutiva de la Asociación Empresarial Hotelera de Madrid
-Emma Gómez, Directora General Centro Canalejas Madrid
-Antonio Linares, Director de Ventas de Iberia
-Michel Notten, Director General de THE Madrid Edition
-Friedrich Von Schönburg, Director General de Villa Magna y Rosewood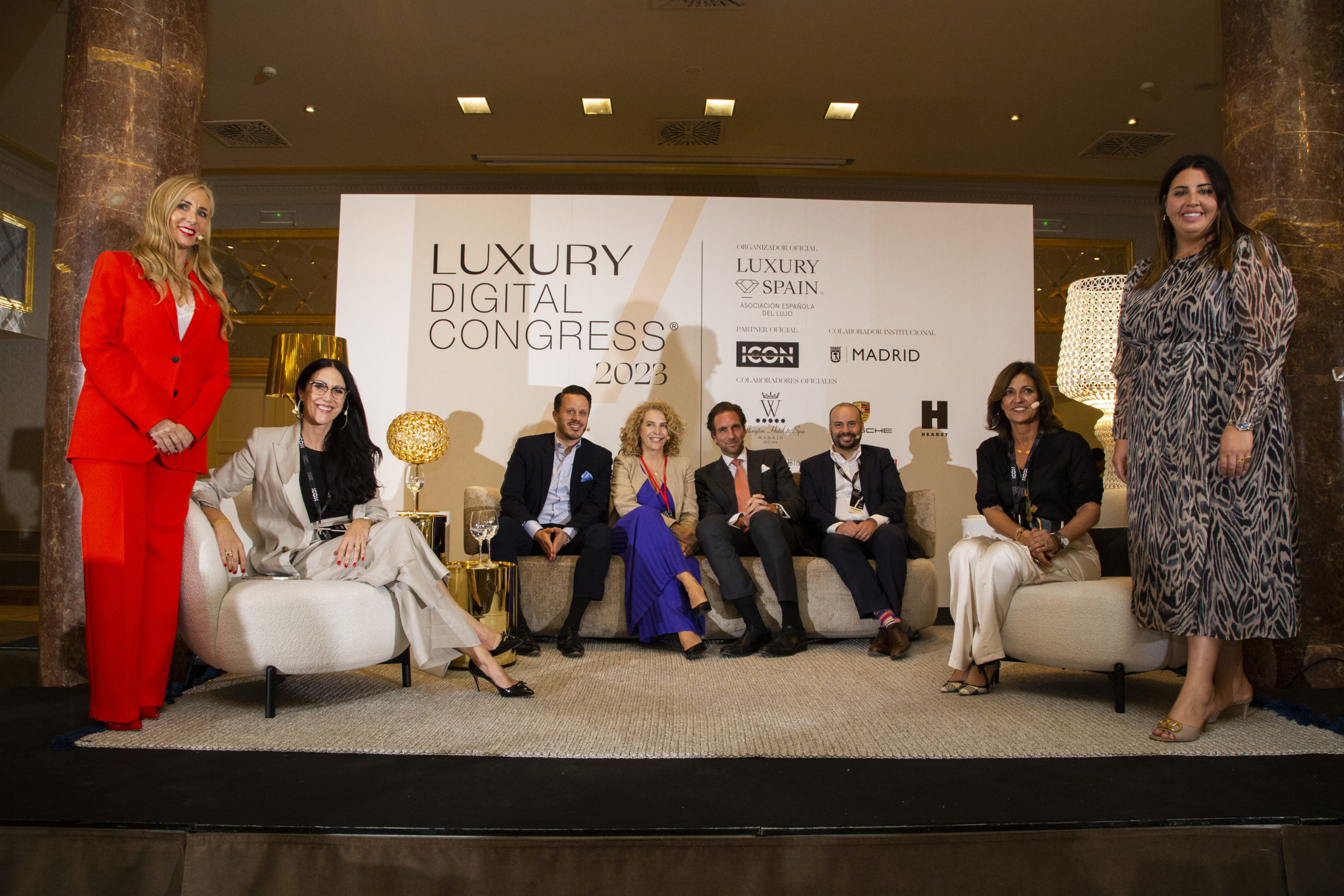 Tecnología: El Nuevo Diálogo Digital en el Lujo
El lujo interconectado creando una experiencia de marca hiper personalizada y conexiones significativas en línea. Nuevas oportunidades y enfoques más interactivos.
Moderado por: Marta Carvajal, CEO Fundadora de la Agencia de Comunicación ICON Communication
Ponentes:
-Iván Burgos, Communication Strategist Manager de Prosche Ibérica
-Blanca Panzano, General Manager LVMH Watches and Jewelry/ TAG Heuer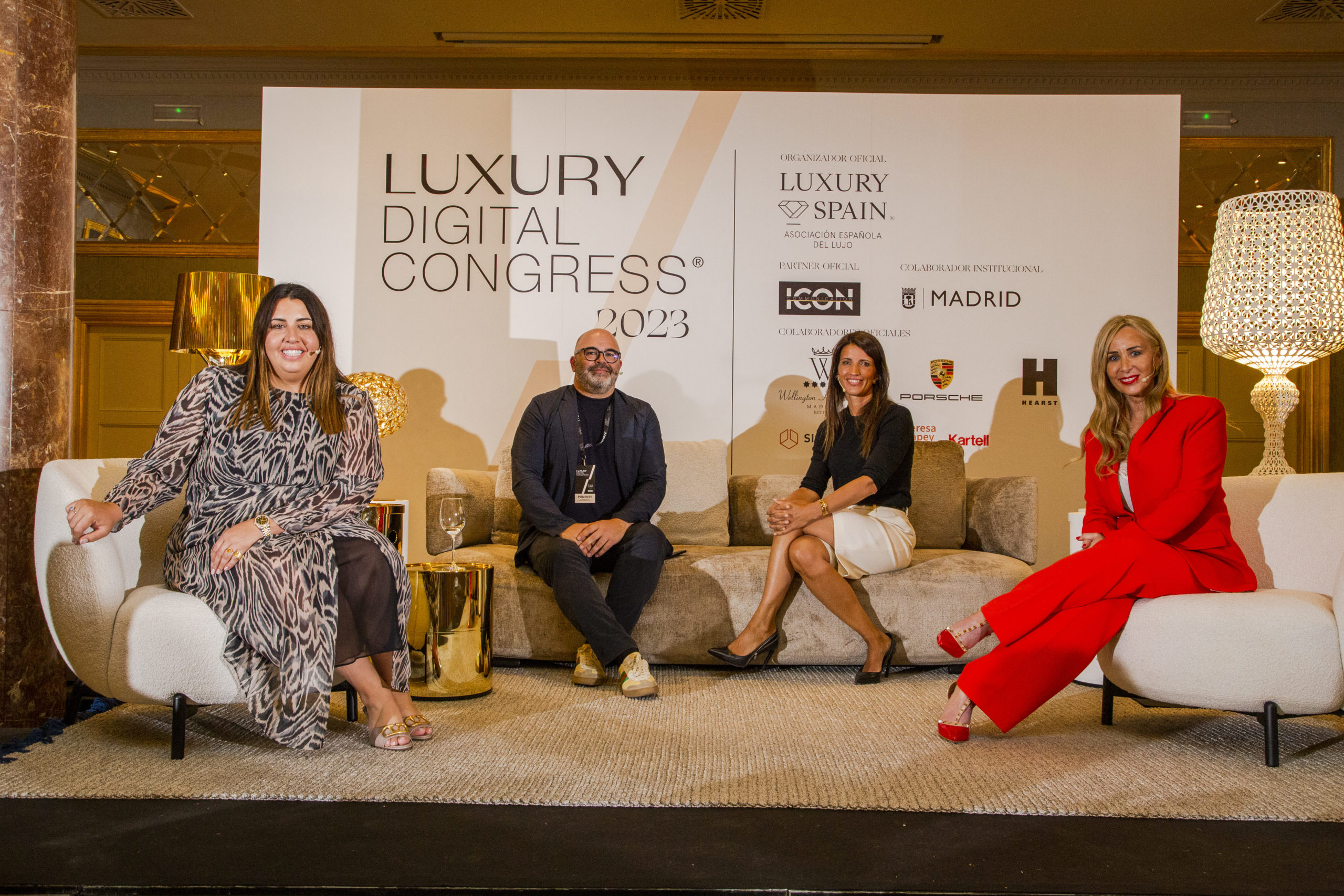 Lujo Made in Spain
La tradición y la artesanía se fusionan con la vanguardia dando vida al sello Made inSpain en el lujo.
Moderado por: Cristina Martín Blasi, Presidenta Ejecutiva de Asociación Española de Lujo-Luxury Spain
Ponentes:
-Rosa Vañó, Socia Fundadora de Castillo de Canena
-Agustín Santaolaya, Director General de Bodegas Roda
-Isabel Abdó, Fundador de Isabel Abdó Shoes

Haga clic aquí para ver el álbum completo en nuestro Pinterest
#luxuryspain #luxurydigitalcongress #congresodelujo #madrid #summit